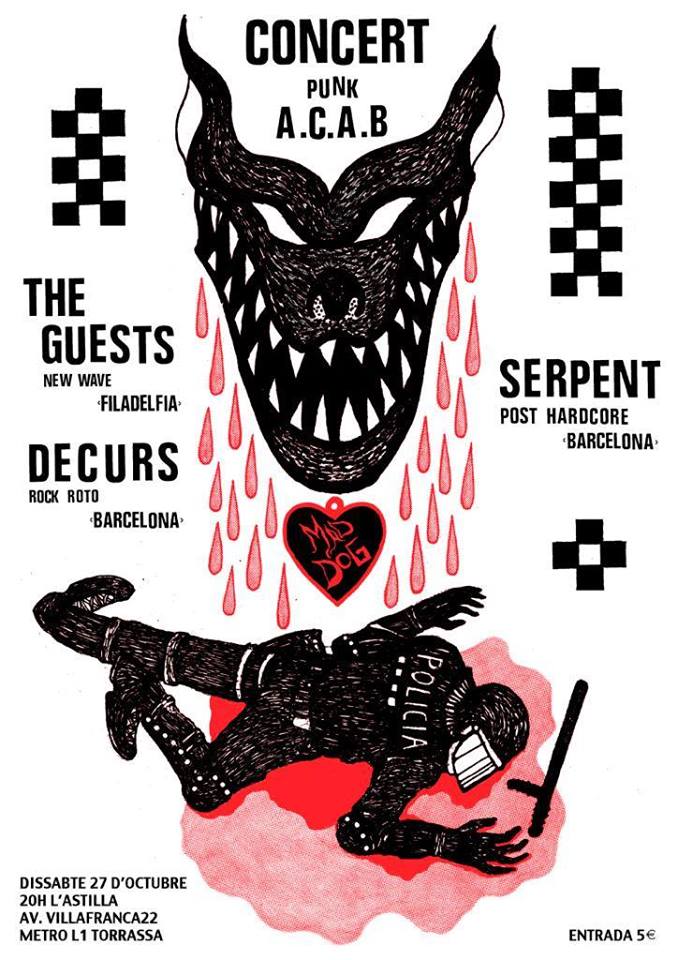 The Guests – New wave / Synthpop / Post-punk desde Filadelfia. Elegante, bailongo, con algunos miembros de Sheer Mag. Acaban de sacar un discazo con Sabotage Records.
https://sabotagerecords.bandcamp.com/album/the-guests-popular-music
Decurs – Post punqroq roto para petarte la cabeza con sus sonidos locos e hipnotizadores. Gente involucrada en diversos proyectos diy en Barcelona como el querido Ojalá Estë Mi Bici.
Serpent – post-hardcore. Nuevo grupo con gente de larga trayectoria tocando en Barcelona (Cinder, Antipatiks, The Gundown…). Han sacado hace poco una cinta pepino penino!
https://pifiarecords.bandcamp.com/album/pt-08-serpent-demo-tape-out-now
27 de octubre, sábado a las 20h
L'Astilla – Avinguda de Vilafranca, 22, 08901 l'Hospitalet de Llobregat (Barcelona), Metro L1 Torrassa
• La entrada tendrá un coste de 5€ que será destinado a apoyar al grupo con sus costes de viaje.
• Los benefícios de la barra irán en apoyo a Pa'lante amiga fest, una jornada de artistas y creadoras punk feministas que se está cociendo para el año que viene (estad atentxs!).
• Cuidemos entre todxs el espacio y las dinámicas de nuestras relaciones, de nuestro ocio y de nuestra protesta. El punk es de y para todxs.